MCF Training Grant Available for Singaporean or Singaporean Permanent Resident (SPR)
MCF TRAINING GRANT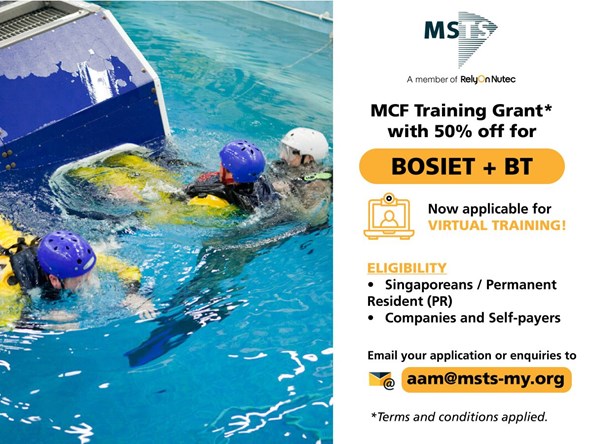 The Maritime and Port Authority of Singapore (MPA) has now opened the application for Maritime Cluster Fund (MCF) Training Grant. The MCF will provide a 50% Training Grant of the course fees, excluding GST, for Basic Offshore Safety Induction & Emergency Training (With Emergency Breathing System) And Travel Safely By Boat conducting in 2020, from 13 May 2020 onwards.
The grant is applicable for:
Singaporeans / Permanent Resident (PR)
Companies and Self-payers
In light of the current COVID-19 situation, the training grant is applicable for virtual training or other forms of live online training in alignment with the safe distancing measures implemented by the Multi-Ministry Taskforce.
All the terms and conditions applied. For further info, visit www.mpa.gov.sg/mcf
FREE UNLIMITED ACCESS TO OUR ENTIRE E-LEARNING CATALOGUE
Get 30 days access to our entire e-learning catalogue when you complete a safety training course at one of our centres. Read more here.
CONTACT US:
Email your application or enquiries to aam@msts-my.org.